Workshops & Classes
Click here for a photo gallery of some workshops and here for photos of books made by participants of various workshops and classes I have taught.

Contact me if you would like to schedule these workshops:
Metal Techniques for Book Arts covers making books with materials like copper, brass, plexiglas and formica. You will learn to use the jeweler's saw and flex shaft, several styles of rivets, spiral binding, and several other cold connection techniques. These are basically jewelry techniques, adapted for book making. click here for more information.
Simple Copper Frames covers making small frames from tooling copper. These make charming Christmas ornaments, and look wonderful in groupings on the wall. click here for more information.
You can continue working on a project once you have completed a workshop with me, and I am also available for one-on-one instruction. click here for more information
To contact me, type my email address into your email window:




Or if you are Java enabled, click here to send me email.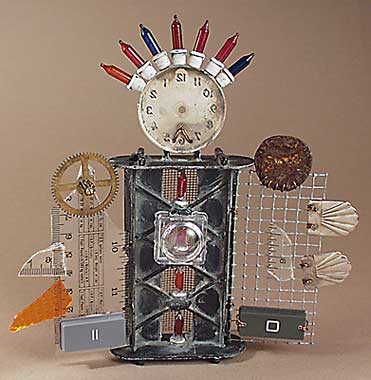 It's not broken ©2005, 7 x 6.5 x 1.5 inches. Found objects, fabricated. I made this altar for a Bay Area Book Artists concept exchange. I used wire, nuts and bolts, and glue to attach things. The glue was very radical for me. I almost always use rivets or another mechanical attachment.

The concept exchange works like this: each person participating thinks of a concept for a book. All concepts are written on slips of paper and each participant draws one. Whatever you draw is the concept you have to make. The concept I thought of was "rocks, paper, scissors." Dora Grinnel drew my concept. She did some research, even watching the Rock, Paper Scissors competitions on ESPN. In the end she liked the idea of a paper doll book, so she made a Rock Paper Dolls with Scissors book. I get to keep the paper doll book (which is wonderful), my altar will go to the person who thought of the concept "It's not broken."